Short-Stay Apartments You'll Love in Lagos, Nigeria
Property List Hub Booking offers both modern and nostalgic short-stay apartments to travel enthusiast around Lagos, Nigeria. It has exciting nightlife, trendy bars and clubs, outstanding dining, and beach resorts.  Short let apartment in this area offers easy access to all that the city has to offer. Surely, you are going to enjoy and recharge with whirlwind weekends free from the hustle of daily life. Whether you are up to the small bedroom to luxury suite rentals—there's an abundance of rentals in Lagos, Nigeria available. We can help you with hotel reservations!
Property List Hub Booking Short Stay Apartments: Hotel Reservations with Luxurious Comfort
If you are an artist, might as well, pay a visit to Ovuomaroro Studio and Gallery in Lagos. Aside from breathtaking and iconic art exhibits from different artists, this is also the best time to witness the pride of Nigeria. Having walked all day can be tiresome, consider booking one of the best short stay apartments in Lagos, Nigeria. The type of apartment that has access to all and with complete amenities like swimming pools, gym, kitchen, and entertainment options –something that could offer you comfort. We have it all.
Short-term luxury apartments
Are you after an accommodation with luxurious amenities? Well, this 3 Bedroom Apartment For Shortlet offers almost all the amenities you need. From 24-7 electricity, internet connection, game boards, gym, television and a car park facility with a dedicated parking space—all of these are located within the vicinity of 3 Bedroom Apartment for Short let.
Hotel Reservations for Short-term apartments with fitness equipment
Business travelers who value access to gym and fitness facilities will love a 5 Bedroom Detached House with Swimming For Shortlet walking distance of all of the city's local attractions. Besides a spectacular skyline view from a private balcony, it offers a large, well-equipped gym with all of the fitness facilities you need to stay at the top of your game including equipment for weight lifting, stretching, core strength, and cardio. It also offers a jacuzzi, allowing you to de-stress and feel great before or after that business meeting or a night on the town.
Short-stay apartments in Lagos for any group size
Single business travelers aren't the only ones who come to Lagos, Nigeria for a short stay. Groups of any size can find the ideal accommodation that is also near from stores. Whether you're a couple in town for a long weekend, a large group on a long-awaited reunion trip or a family of 4, you'll find this  2-Bedroom Luxury Apartment for short let a perfect short-stay apartment option.  It can provide you the comfort and luxury you need for your romantic getaway, group holiday or family trip.
Ideal short-stay apartments for romantic getaways
Couples on a romantic weekend away will appreciate accommodation in a 2-bedroom apartment for short let (Richmond gate) that's just a stone's throw from local attractions like the casino, bars, restaurants, and shopping. You can also go for a quick romantic walk.  Free local phone calls, personal internet, and cable TV with DVD player make sure you're always connected and entertained, and a kitchen is there for those who enjoy self-catering romantic dinners.
Short-stay apartments for families
There's no better place to show some love, and share fun-filled memories with friends and family than in our residential and party apartments. Families looking to reconnect on a long weekend away may like a 2-bedroom Apartment for Short let with unparalleled panoramic views of the city. This 2-bedroom accommodation can handle up to 6 visitors comfortably and has a scenic view over Lekki from both bedrooms and the living area. It's a great option for short stays or extended stays and is just steps away from attractions, so no matter what your family's interests, you'll be nearby the ideal landmark.
Hotel Reservations for Short-term apartments for large groups
Large groups are more common than ever for travel experiences. You might be traveling for a wedding, graduation, a reunion, a corporate retreat, or just a big group of friends getting away for a weekend. For these folks, a 5 Bedroom Detached House with Swimming For Shortlet is available with 5 bedrooms and capable of sleeping up to 10 people. It's the ideal option for stays of 3 or 4 nights and offers luxury furnishings including a glass chandelier and a grand staircase leading to a grand master suite with a private jacuzzi and bath.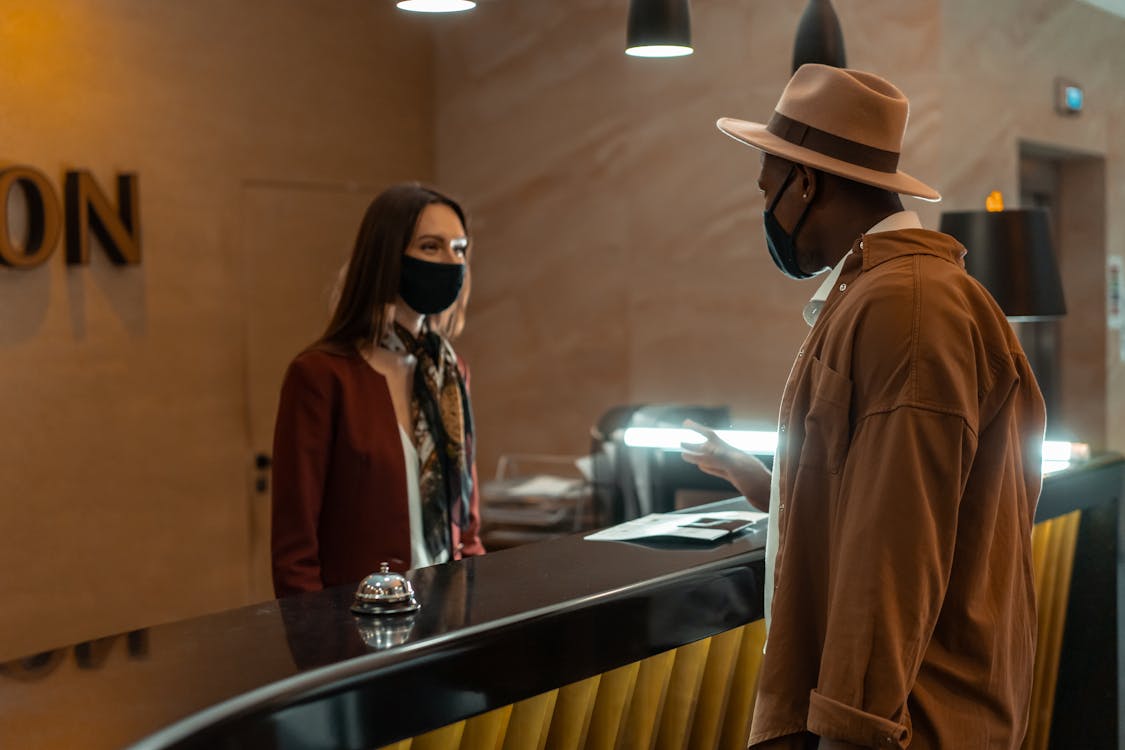 Hotel Reservations with Plistbooking
No matter what your accommodation preferences are, Property List Hub Booking got your back. Try browsing through our site and start looking for short stay apartments that will suit your booking needs. You can also ping us on Whatsapp.