25 Meeting Room Layout You Should Try For Your Next Events
Let's admit it, choosing the right meeting room layout can take time and effort. The good news is that we have selected some of the best and most well-liked meeting room plans. You can create the right atmosphere and maintain order with any of these meeting room diagrams. You'll discover tips on how to use it, what it's suited for, and how to construct each of the examples below.
However, let's first go over some fundamental information you'll need during your decision-making process before we get into the most effective meeting room arrangements.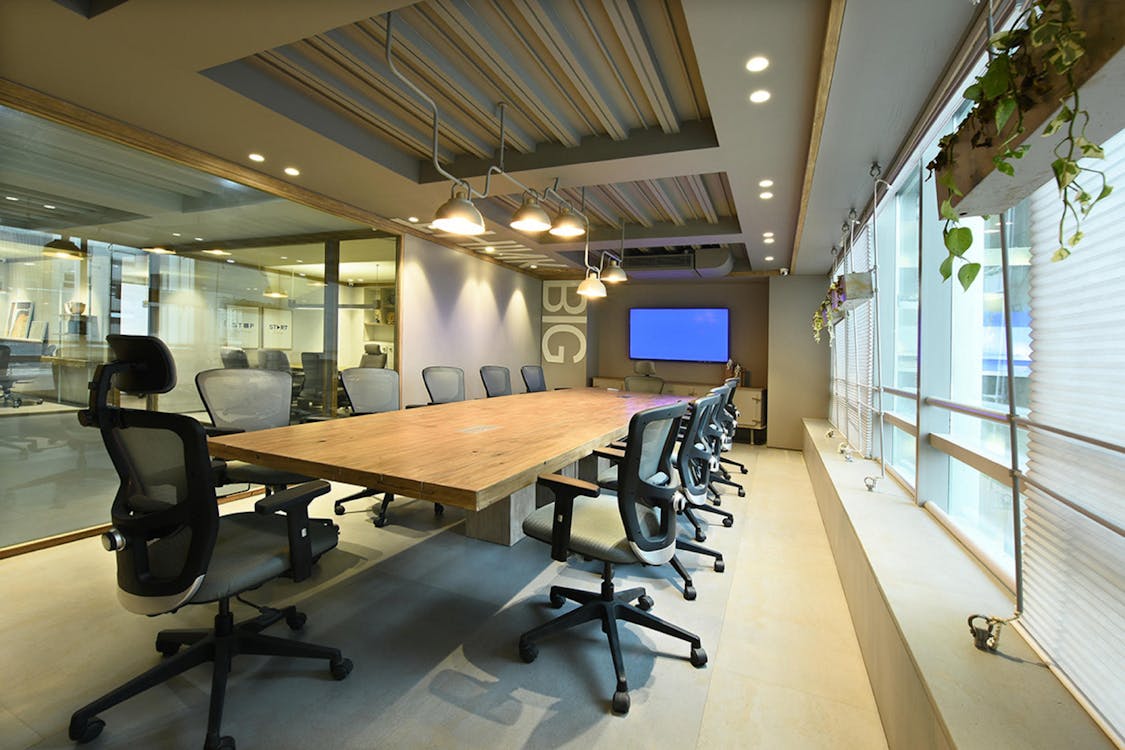 Important room design considerations
Before you design the layout of your event, consider the following:
Headcount:

Start with the number of guests or expected registrations. Determine the number of persons your design must accommodate.

Security and safety:

Once you have a precise headcount, consider the required safety elements. Considerations like wheelchair accessibility and well-lit pathways leading to emergency exit doors should be considered.

Size of the area:

Additionally, you will require the dimensions of the space or spaces in the venue. It might seem obvious at this point. However, it can be tempting to go immediately into planning. However, if you develop a meeting arrangement that you adore, you want to avoid subsequently learning that it's not practical, as that would mean having all your hopes and aspirations dashed.

Necessities:

After that, you must account for event needs like décor, furnishings, and food. For instance, will you have a supper buffet? You might consider placing your buffet away from the dance floor for simpler access.
Keep in mind your event's objectives, and that's it. Every event space plan has benefits and drawbacks of its own. Before you begin, be sure of your goals.
Creative Meeting Room Layout Ideas
Whichever event arrangement concept you select from our list, bear in mind these intriguing variants along the way. Almost any layout you choose can be improved with these straightforward methods. Your creativity can be unrestricted even if your options for arrangement are constrained.
Organize your tables into distinctive forms that mimic the emblem of your business.

Highlight floor risers for VIP guest sitting.

By using various table heights, you may visually partition rooms. Short tables are found in the lounge area, whereas tall tables are near the bar or dancing floor.

Use creative chair arrangements. Bean bags create a cool, laid-back atmosphere, and communal or family-style benches encourage visitor interaction and connection.

Distinct spaces with lights. Where attention has to be drawn or diverted, use vibrant colors.

Group, the participants. Find strategies to encourage interaction at your event through allotted seating or specific activity zones, whether it be based on mutual interests or age.
Now that your creative event planning wheels are moving, it's time to decide which layout will work best for your significant upcoming event.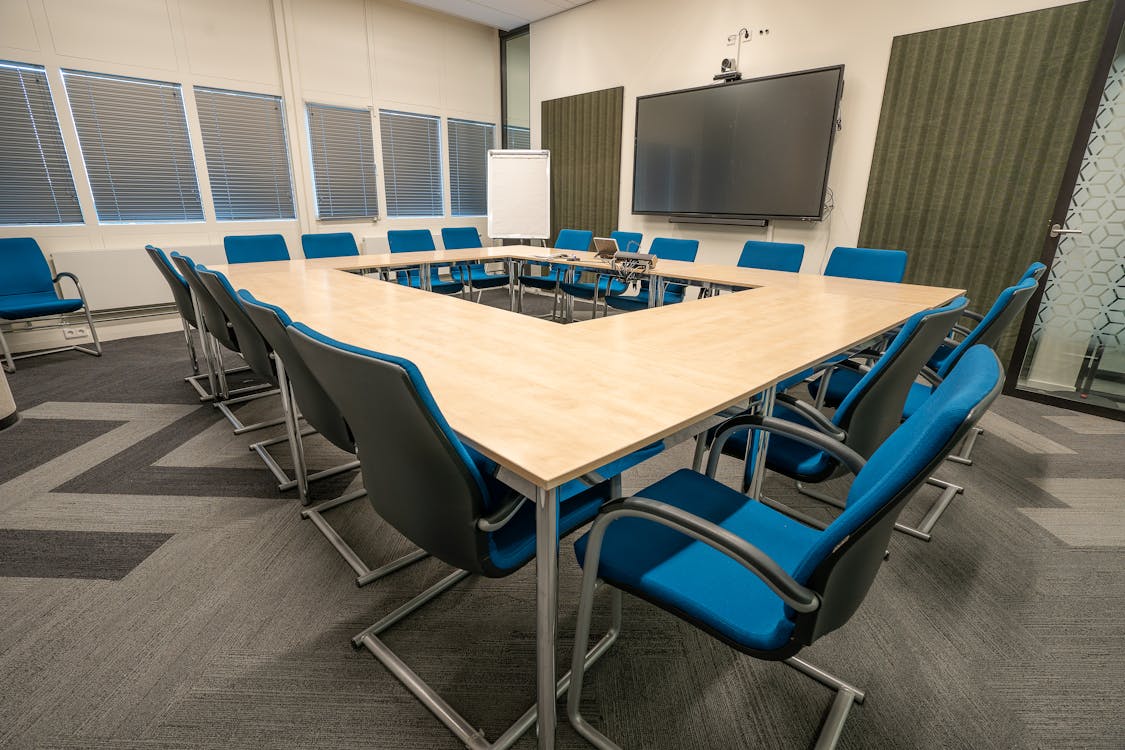 25 Meeting Room Layout Examples 
Decision Maker
More than two people are present at this meeting, but not more than ten. Making sure everyone has a voice is one of the main worries event planners have with this gathering. Choose a round table setting where everyone may be physically equal to help keep the talk flowing equally.
Problem Solver
A point person is necessary for slightly bigger groups (between 10 and 15 individuals) to keep things on track. You must choose a part for this layout that serves as the room's visual center. Your meeting facilitator will be seated there; their responsibility is to ensure the agenda is finished on time.
Hybrid
Are you open to beginning a group conversation before splitting it into smaller subgroups? The hybrid design balances the decision-maker and the problem-solver roles best. Start by setting up your floor plan as a problem-solver. After the main lecture, you can incorporate a separate section for more intimate round-table conversations.
The Informative
Your event may feature an instructional component and an informational layout if it is geared toward a bigger audience. Imagine your area as a lecture with the audience facing a podium. Place panelists, special guests, or presenters directly on the stage.
Cocktail
Host a social gathering? Maintain an open space in the center of your floor layout while leaving buffet tables and chairs nearby. Although there will be seating available, with this setup, guests will be strongly encouraged to socialize.
Seating in pods
Small group talks that need a leader or moderator are ideal for pod seating. They can also be used in the breakout sessions of a seminar to provide your audience members with some one-on-one time with the presenters.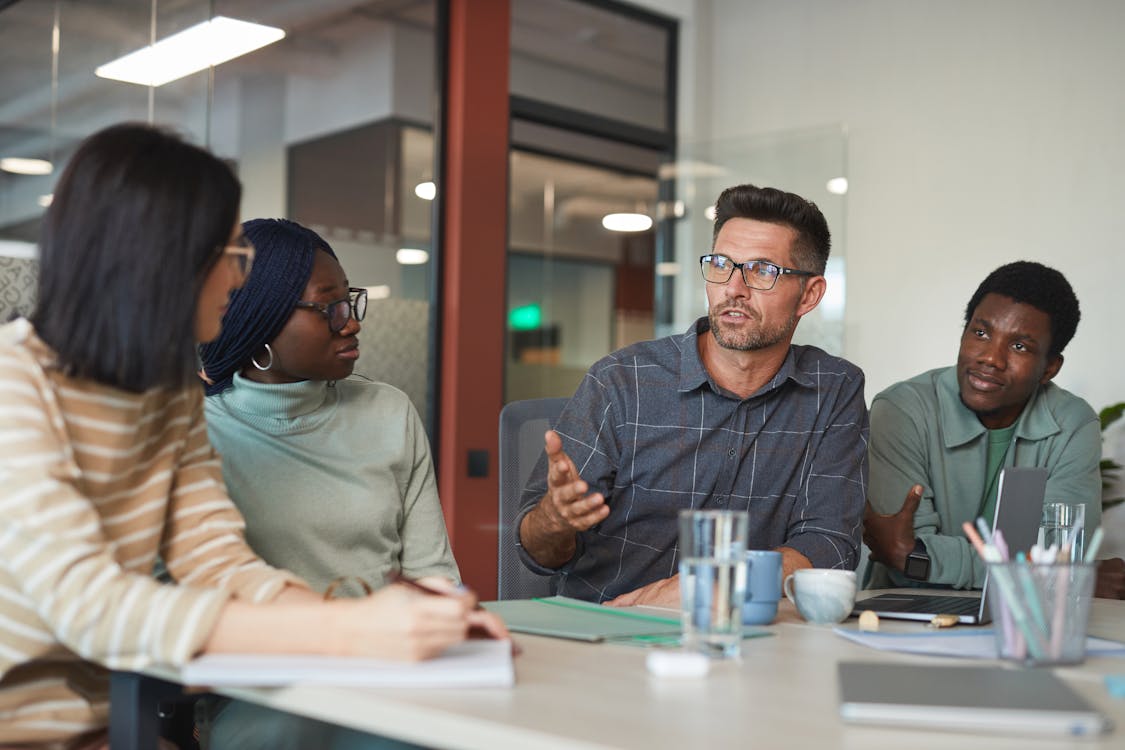 Per Cluster
Another design that is great for encouraging interaction among guests is the cluster. Use high-top tables, with or without chairs, spread throughout the area. Place the tables in a way that forms the main thoroughfare for traffic.
Circle
Humans naturally gravitate toward circles because they promote equality and a feeling of togetherness while also conveying friendliness. Circles are the finest seating arrangements for discussions that can call for openness or more intimate interaction.
Semicircle
Try this one if you decide against having tables at your event, but it requires a little more space than the circular arrangement offers. Layouts in a semicircle work well for gatherings of between 10 and 40 individuals. In this type of environment, audience engagement is welcome but optional.
Cafe Design
For cafe-style layouts, three to four seats are typically arranged around small round tables. Set up the tables in casual rows for a laid-back yet cozy ambiance. In this style, seated lunches are strongly encouraged during speaker appearances.
Square Hollow
Make the arrangement resemble a boardroom floor plan with a square of long rectangular tables in the middle. The square equalizes everyone, much like interactive layouts like the decision maker or the circle. This setup is perfect for business meetings and group brainstorming.
Conference 
The conference arrangement, a tried-and-true layout mainstay, has even appeared in enduring Game of Thrones moments. A formal environment and the tone for decision-making are created when several rectangular tables are brought together to form one long surface.
X-Formation 
It's uncommon to see an X-shaped pattern, but it ought to be! This arrangement uses four rectangular tables to create a (just as you suspected) X, with a smaller round table as the centerpiece. This design is appropriate for you if you don't want a central focal point and want to add a bit of intrigue.
U-shape
This arrangement resembles the hollow square a lot of the time, except with one side missing. Speakers can move around and connect with people at the table by using the area in the middle as a thrust stage. Or it might encourage interaction among participants.
Broken Horseshoe 
The broken horseshoe layout is comparable to the conventional U-shape or regular horseshoe layout, except that it features a detached desk facing the rest of the group at the opening of the arrangement. Use this configuration for smaller meetings where a boardroom layout is impractical due to space constraints or where a single facilitator is preferred.
Theater 
Theater arrangements, popular for corporate events or large gatherings, focus on the group (often placed in tidy, equally spaced rows) at the front of the room. This design is excellent for presentations, lectures, and product demos with or without a stage.
Banquet
Considering a seated meal? The solution you need can be a banquet layout. Depending on the table size, you can decide how many people to seat at each table. Remember to give yourself lots of room to move!
Imperial
The imperial arrangement is similar to the broken horseshoe but has chairs arranged on both the inside and outside of the shape, with the head table facing the other guests. The Imperial makes cafeteria-style dining more engaging and is also perfect for lunches.
Runaway
The runway arrangement is a dynamic setup that works well for performances of any kind, even if your event isn't a fashion show. Your audience will be involved in the event without having to take a direct part, whether there are tables or not.
21 Classroom
While little rows of tables or chairs positioned end to end facing one way may seem dated, this arrangement can be ideal for your important upcoming event. If you want your attendees to take notes, make sure you provide them with a writing surface. St. Staggered seating makes it easier for people at the back to see.
Tiered Classroom
The tiered classroom layout, a cross between the classroom and theater layouts, provides a more concentrated experience than any of its alternatives. It is simpler for them to monitor and engage with the audience if the tables and seats are turned slightly further toward the middle, where the speaker or presenter is.
Triangle School
The triangular classroom, the last of our school-inspired designs, keeps tables and seating to a minimum, but this time there is a large walkway that runs down the middle in the direction of the presenter. Since it looks more like a college dorm than a kindergarten, some planners decide to arrange couches this way. Even though attendees can interact, this layout encourages them to relax more.
Crescent
The crescent or half-moon layout is similar to the banquet style but on a much smaller scale, with only half the chairs at each table. Excellent for breakout sessions, presentations, and meals without requiring people to leave their seats.
As the name suggests, the lounge arrangement places more emphasis on leisure than work. A lounge plan typically has low seating, leaving space for couches, chairs, and standing places. Use this arrangement for relaxed networking events or VIP areas that give attendees a break from the main crowd.
Mixed Seating 
A mixed seating arrangement can be as informal as the lounge layout, but it primarily depends on the chairs and their height. To create designated hangout areas, you should place chairs at various heights around the room. This arrangement is entertaining and practical thanks to artistic and eye-catching furnishings or offbeat decor.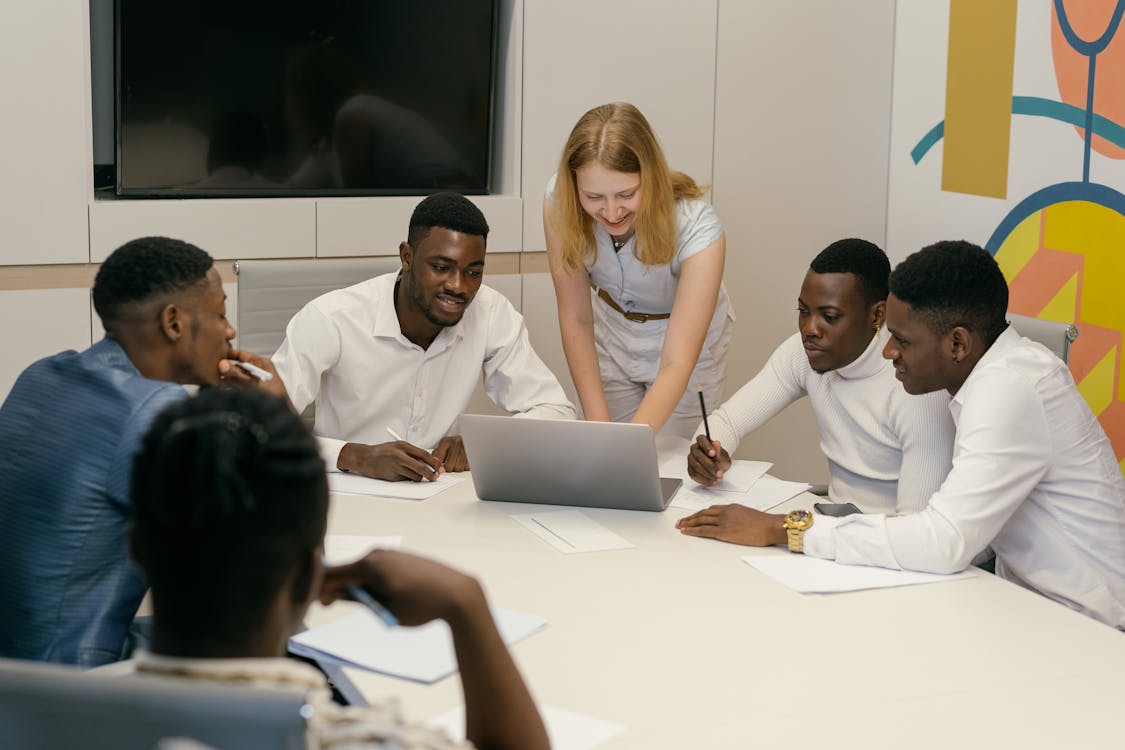 Consider the following considerations while diagramming your next event, regardless of the layout you select:
To assist you in choosing, decide on the level of formality required for your occasion.

Decide if you want guests to engage on an emotional level, a professional level, or both.

The final decision about the layout should be made in light of your event's goals. Do you need to interact with people? The use of banquet tables, an open floor plan, and a range of chair heights are all excellent options. Need participants to finish a task or project? Desks set up in square or U forms encourage collaboration, whether or not a facilitator is present.
Do you still need details on conference room arrangements?
How should a meeting room be set up?
Meeting spaces should be set up according to their main function, although there are certain general guidelines you can follow:
– A presentation tool 
– A whiteboard
– Enough table and chair space for guests
Planning to go on vacation with family?  See our available short-let apartments here: 
What are the different design elements employed to set up a meeting space?
When it comes to decorating conference rooms, there are genuinely infinite alternatives. Examples include the Imperial, broken horseshoe, X-shaped, and tiered classroom.